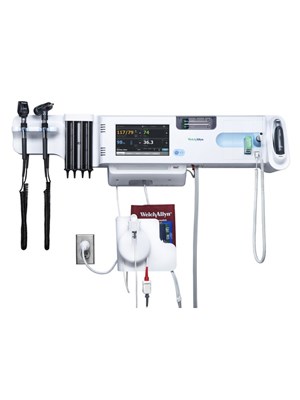 Welch Allyn Connex Wall System Wireless
Code: 99503171
Supplier Part: 85MTVXC-6
Unit: Each
Buy In Item
The Welch Allyn 85MTVXC-B Connex Wireless Integrated Wall System is an advanced vitals management and physical assessment solution that combines all necessary exam tools in one convenient system allowing clinicians to take and electronically capture accurate patient vital signs and perform basic diagnostic exams.
Features:
Integrated system for vital signs, plus otoscope and ophthalmoscope, choose from a variety of 3.5V options
Choice of leading Sp02 technologies Masimo® or Nellcor®
Options for WiFi and Ethernet connectivity to EMR systems
Secure: FIPS-approved encryption of transmitted data and a range of additional security features
Automated Early Warning Scoring to help clinicians identify and response to signs of patient deterioration (ie. MEWS, NEWS)
Large, easy-to-read colour touchscreen
SureBP® technology can provide BP in only 15 seconds
Connectivity to Detecto, Health o meter® and SECA scales
SureTemp® Plus Oral/Axillary or Braun ThermoScan® PRO 6000 Tympanic Thermometry
Single sign-on options – including integration with Imprivata – available for quick, secure clinician login
Customisable workflow options for documenting patient observations (ie. Is & Os, Pain Scale) and vitals modifiers (ie. BP cuff location)
UOM: Each
Image is sample of product

Request further information on this product
Newsletter
Please enter your email address to subscribe to our newsletters.