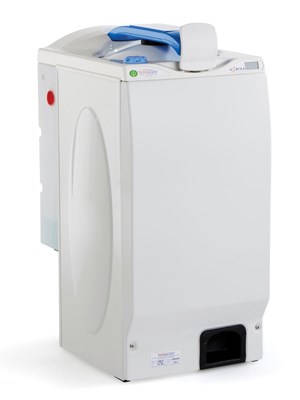 Vernacare Vortex Macerator
Code: 22440003
Supplier Part: 2030ZA001
Unit: Each
This product has been discontinued. It will still be purchasable while stocks last but will not be restocked after this point.
The Vortex Macerator has hands free opening which prevents the risk of cross contamination in the sluice room, and reducing ward staff time.
Automatic anti-bacterial cleaning process - The anti bacterial deodoriser works against bacteria in the hopper, while the light fragrance improves the maceration experience offering reassurance and piece of mind for the user.
For more information on Vernacare macerator deodoriser-Vernaclean, please contact your Vernacare distributor.
Hygienic
The lid seal has been proven to effectively contain aerosols, eliminating risk of micro-organisms being released into the air. The Vortex has a moulded surface
casing designed to enable efficient cleaning. It will also withstand disinfectants and detergents.
Avoids Drain Blockage
The combination of the sealed, water filled hopper and its unique, innovative twin blade design provides complete maceration to a fine watery slurry which will flow freely through drains. Vortex features the unique Smart Flow™ technology.
Energy Efficient
The motor and intermittently operated pump ensure economic use of power; using approximately 97% less electricity and requiring only cold water (60% less water), the Vortex quickly and hygienically disposes of 4 pulp products (or 2 regular washbowls/1 Maxi washbowl) every two minutes.
Durable
The powerful 1kw three phase motor for single / three phase locations and square section frame provide inner strength and durability to withstand transportation providing an average life of 10 years. The Vortex macerator is manufactured to ISO EN 9001:2000 standards and is tested to ensure compliance with CE and BS requirements.
Image is sample of product
Request further information on this product
Newsletter
Please enter your email address to subscribe to our newsletters.