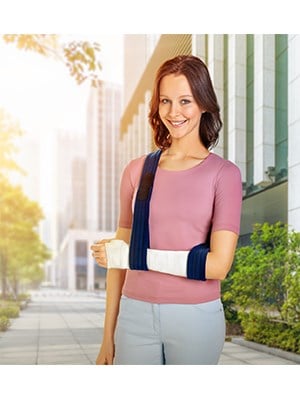 BSN Actimove Sling Collar & Cuff Support
Code: 29931653
Supplier Part: 72859-18
Unit: Bx 2
Actimove® Sling Comfort is the superior comfort arm sling for a stable and supported forearm. It comes in the space-friendly two-roll dispenser box and features a useful on pack measuring system, which facilitates a quick application for an individual, easily adjustable and universal patient fit.
Provides arm slings for all patients and keep inventory low by choosing the dispenser box.
The one-Fits-All sling allows for individual length and adjustment and various application styles in one product.
Help to prevent patients from experiencing neck pressure thanks to the broad 5.5cm wide sling.
The padded strap and Y-tab closure system provide effective vertical support to the collarbone and upper limb area.
Y-tab hook system facilitates secure clinical positioning.
Description
2 rolls x 12m in a Dispenser Box.
28 Y-tabs are included in each box.
Suitable for:
Fracture management (e.g. clavicle, scapular, humeral, and greater tuberosity fractures).
Support while wearing a cast or splint.
Joint dislocations (e.g. acromioclavicular & sternoclavicular dislocations, shoulder luxation).
Temporary arm stabilisation in emergency/paramedic care.
PLEASE NOTE:
Machine washable at 40°C
Radiolucent
Metal-free
Latex-free
Request further information on this product
Newsletter
Please enter your email address to subscribe to our newsletters.