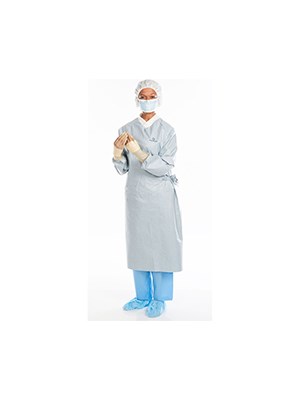 Aero Chrome Surg Gown NS XL XL
Code: 35911299
Supplier Part: 44668
Unit: Ct 32
AERO CHROME* Breathable Performance Surgical Gowns combine unprecedented comfort, softness and breathability with maximum protection against fluids and pathogens. 1
This gown's unique fabric technology builds a high performance fluid barrier into a lightweight and breathable fabric2. The result is a surgical gown that's like nothing
else in the OR today. †
LIGHT, COOL COMFORT. HIGHEST LEVEL PROTECTION.
Meets AAMI Level 4 standard for surgical gowns, providing the highest level of fluid and microbial protection in the critical zones. 3
Soft, light and breathable fabric keeps staff protected yet cool and comfortable.2
Excellent ignition resistance, with the highest rating for protection against ignition with surgical lasers. 4
Low linting5 to help reduce the risk of wound contamination and infection.6
THE COLLAR THAT STAYS
The soft, comfortable collar stays flat against the skin to minimise gaping and possible exposure. 7
THE GOWN THAT STANDS OUT ON THE BACK TABLE.
When choosing from the sea of blue gowns, your OR staff may end up under-protected – or wearing a higher protection level than they require. The silvery AERO CHROME* colour makes it easy to choose the right gown for the right procedure.

AAMI LEVEL 4 PROTECTION
Make sure your key OR staff members are fully protected during long, fluid-intensive procedures 10 with AERO CHROME* AAMI Level 4 gowns.
LIGHT, SOFT & COOL
The unique AERO CHROME* fabric has a proprietary Cool Shield Core technology 11 that allows moisture vapour to escape while providing a high performance barrier.
References:
1. Meets ASTM1671 in the critical zones (ties, fabric, sleeve seams), per PB70: 2012 AAMI Level 4.
2. Per Hydrohead testing, ASTM 1671, basis weight of fabric and MOCON Moisture Breathability PB70 Level 4.
3. Meets AAMI Level 4, AAMI PB70, EN13795 High Performance.
4. Per ISO 11810.
5. Per Gelbo lint test.
6. Per Association of Perioperative Registered Nurses (AORN), Standards, Recommended Practices and Guidelines, 2006.
7. Comfort study 2015.
8. Grab tensile elongation test.
9. Air permeability testing.
10. ISO 22610 (wet), ISO 22612 (dry), ASTM 1671 and ASTM 1670, Hydrohead-20811.
11. ASTM 1671, MOCON and cup crush testing.
Request further information on this product
Newsletter
Please enter your email address to subscribe to our newsletters.