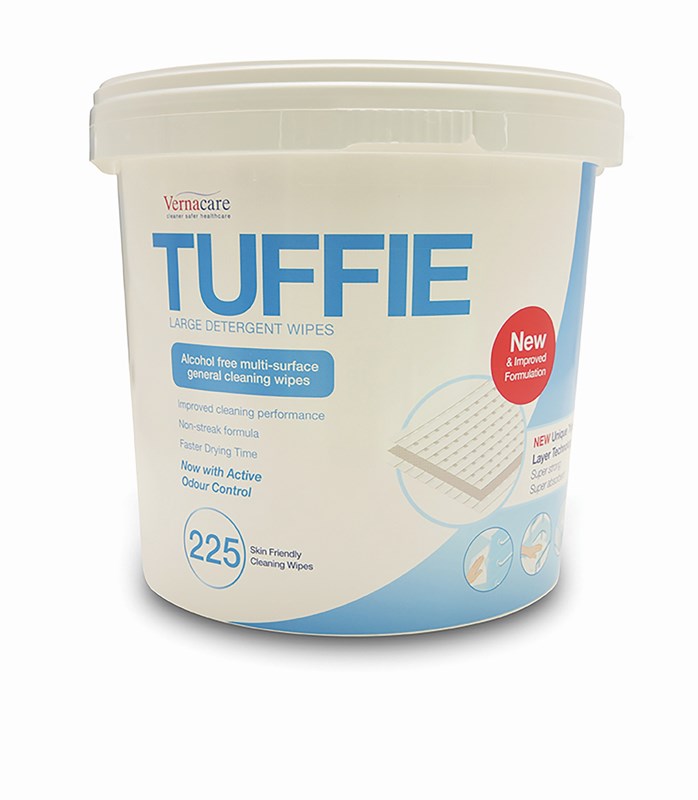 Tuffie Detergent Wipes Tub 225
Code: 22440089
Supplier Part: 901DW225BX
Unit: Each
Bulk Unit: 4 per Case
**IMPORTANT MESSAGE**
Please be aware due to significant high demand for this product there may be limited availability.
EBOS Healthcare is currently working with manufacturers on availability and future supply.
Tuffie Detergent Wipes are multi-surface, chlorine and alcohol-free wipes, specially formulated to remove dirt from hard surfaces and equipment including beds.
Features and Benefits:
Active odour control: Now with Active odour control to attack and destroy bad smells. It is effective against vomit, faeces and urine.
Outstanding performance and choice: Improved cleaning, with non-streak formula and a faster drying time. Tuffie Detergent Wipes are packaged in standard 225-wipe buckets, 100-wipe flow wrap packs and 150-wipe flexible canisters and dispenser refill packs.
Environmentally-friendly flexible packaging: The Tuffie flexible packing comes with a unique single-wipe dispenser which prevents over usage, whilst it's easy to close lid ensures wipes do not dry out. The flexible packaging saves space and reduces waste, is lightweight and easy to transport.
The various presentations of the product means there is a solution for all your cleaning needs.
Alcohol free
Can be used for cleaning equipment between patients
Low foaming surfactant eliminates need for a drying cloth
Lift soiling without leaving residue
More convenient and hygienic than bowls of soap and water
Can be more cost effective than reusable cloths
Ideal for removing dirt, grease and organic matter from lockers,
mattresses, bed tables, beds and commodes
Neutral detergent is not harmful to skin
Will not damage surfaces - can be used on anything where detergent is normally used
Prevent wastage of detergent and ensure correct concentrations are always used
Do not dry like alcohol wipes
Packaged in handy size resealable 100 wipe flat pack, 100 canister or tub of 225 wipes
Bracket available for wall mounting tubs
Request further information on this product