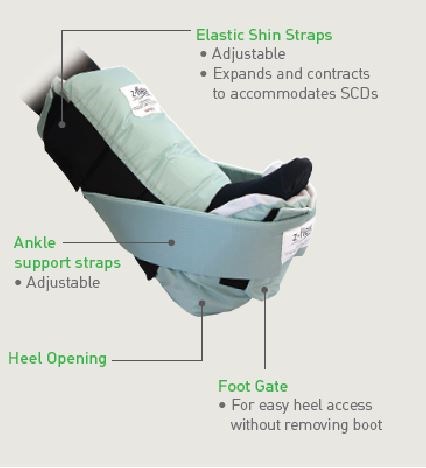 Mölnlycke® Z-Flex™ Fluidized Heel Boot
Code: 26611587
Supplier Part: 1400122
Unit: Pk2
Buy In Item
Mölnlycke® Z-Flex™ Fluidized Heel Boot
Best-practice pressure ulcer prevention for heels We've heard how the demands on your time as a clinician continue to grow. Each day presents many treatment challenges – and then there are prevention priorities, too. At Mölnlycke®, we take pressure ulcer (PU) prevention seriously and we want to make it easier for you to avoid unnecessary patient suffering and costs. Patient compliance can make it difficult to maintain offloading of the heels over time. So our Molnlycke® Z-Flex™ Fluidized Heel Boot is designed with thermal regulating material to make it more comfortable. It also has a fluidized positioner that conforms to the Achilles and aids in protecting this vulnerable area too. Adjustable shin straps to accommodate a variety of leg sizes Facilitates use of sequential compression devices Anatomically neutral foot position is supported by an adjustable ankle positioning strap Comfortable for the patient Built-in gate allows skin assessment at scheduled intervals Thermal regulating material helps keep legs comfortable longer
Did you know?
•After the sacrum, the heel is the second most common site for pressure ulcer incidence.1
•The heel is also the most common site of pressure ulcers for the perioperative patient.1
•Some of your patients are more prone to heel pressure ulcer development – due to validated risk factors such as diabetes mellitus, vascular disease, immobility and an overall Braden Scale score of 18 or less.1
•Heel ulcers may lead to osteomyelitis and even limb amputation.2
Key Points of Difference of the Molnlycke Heel Boot:
• The Molnlycke Heel Boot uses positive air displacement which allows the foot to be immersed and enveloped into the air chambers. Positive air displacement is one of the key differences of the Molnlycke boot.
• The Molnlycke Heel Boot has thermal regulating material. Microclimate of heel boots is important due to patient compliance/comfort and helping to maintain skin integrity. Many patients find some boots very hot/sweaty and uncomfortable and take them off.
• The Molnlycke boot has a built in gate which allows visualisation of the patients heel for checking daily or as often as required.
• The Molnlycke boot has a fluidised positioner around the Achilles tendon. This is a key benefit for our heel boot – we are the only boot which can offer true offloading of the calf and Achilles tendon area – which is a high risk zone for heel pressure injuries
• Patients can lie on their side in the Molnlycke Heel Boot and their malleoli are still protected/immersed.
• The Molnlycke boot has ankle support straps for added support.
References
1. Delmore, B., Lebovitz, S., Suggs, B. Risk Factors Associated With Heel Pressure Ulcers in Hospitalized Patients. J Wound Ostomy Continence Nurs. 2015;42(3):242-248.
2. Black, J. Preventing pressure ulcers occurring on the heel. Wounds International Vol 4 | eSupplement | ©Wounds International 2013.
Request further information on this product