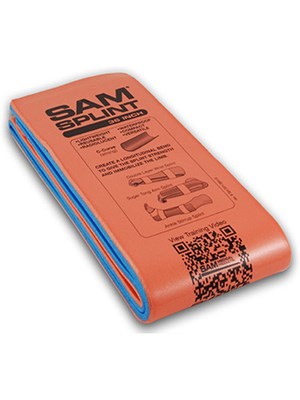 SAM Splint
Code: 22511022
Supplier Part: FW-1121
Unit: Each
The SAM splint is a compact, lightweight, highly versatile device designed for immobilizing bone and soft tissue injuries in emergency settings. It consists of a layer of .016 inches strips of soft aluminium, with a polyethylene closed-cell foam coating.
The foam padded aluminium SAM splint is based on an ancient construction principle; curves are strong. It can be moulded to splint almost any bone in the body, can even be used as a cervical collar in emergency situations.
Waterproof, reusable and invisible to X-rays, SAM splint may be folded to fit into almost any emergency pack. Instructions with diagrams are included.
MEASUREMENTS:
Folded: 10.8cmW x 22.85cmL
Extended: 91.45cmL
Request further information on this product
Newsletter
Please enter your email address to subscribe to our newsletters.