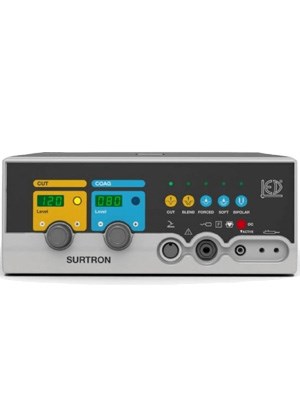 Surtron 80 Monopolarelectro
Code: 33700045
Supplier Part: BIOLED101/LED-10100.101
Unit: EA
SURTRON 80 is a high frequency electrosurgical unit which is suitable for minor monopolar surgery. Also refered to as a Diathermy
SURTRON 80, through its performance, allows pure CUT, cut-coagulation BLEND, superficial coagulation FORCED COAG, deep coagulation in absence of necrosis SOFT COAG and, with a special adapter, BIPOLAR coagulation.
The digital reading of delivered power and the monitoring of operative function by microcontroller guarantees the absolute reliability of working conditions.
The connection of neutral electrode is constantly monitored. Safety control of patient/plate contact using split neutral electrode. The possibility to control by the handle the monopolar output functions as well as the delivery of output power, allows to implement the surgical operation without turning away the surgeon attention from the surgical field.
The unit includes:
1 x LED Surtron 80 electrosurgery unit.
1 x Monopolar handpiece with finger switch control
1 x Pack of assorted reusable monopolar tips
1 x Footswitch
1 x Bipolar cable 3 metres
1 x Bipolar cable adapter
1 x Bipolar forceps 20cm angled
Request further information on this product
Newsletter
Please enter your email address to subscribe to our newsletters.