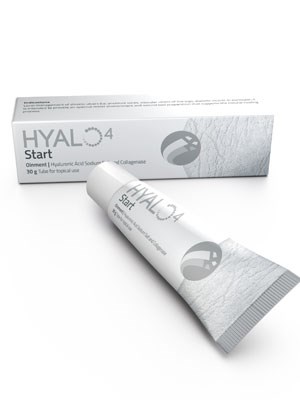 Hyalo 4® Start 30gm tube
Code: 28700000
Supplier Part: 110821
Unit: Each
HYALO4® Start is a fluid ointment containing bacterial collagenase (from a non-pathogenic strain of Vibrio Alginolyticus) and hyaluronic acid for topical application. Hyaluronic acid promotes the healing process and protects the newly formed tissue thanks to its moisturizing action, while collagenase helps prepare the wound bed.
Collagenase: enzymatic activity to remove non viable tissue and improve wound bed preparation.
Hyaluronic acid: creates the correct moisture environment and stimulates the healing process.
Indications
HYALO4® Start is indicated for local treatment of chronic wounds (bedsores, vascular leg ulcers, dia- betic ulcers). In particular it helps promote the best moisture environment, preparing the wound bed which helps the natural healing process.
Advantages
The HYALO4® Start collagenase is 99% pure. The absence of a specific protease entails a totally specific action with no bothersome dermatitis around the wound.
Hyaluronic acid maximises the effectiveness of the collagenase, and stimulates the healing pro- cesses which are faster and improved.
As HYALO4® Start is so fluid and smooth, it is very simple to apply with no discomfort or pain for the patient.
Request further information on this product
Newsletter
Please enter your email address to subscribe to our newsletters.