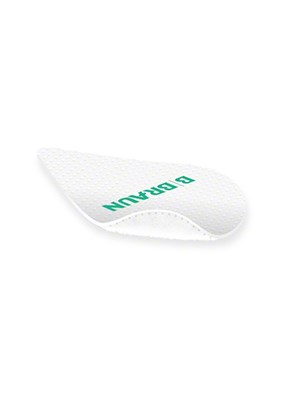 Prontosan Debridement Pad
Code: 21155123
Supplier Part: 3908456
Unit: bx3
Bulk Unit: 3 per pkt
Soft mechanical removal of slough and debris
Designed for soft mechanical debridement of slough and debris. The Prontosan® Debridement Pad removes and binds slough and debris and assists with effective wound bed preparation –
New granulation tissue is left intact.
Good cleansing and debridement due to microfiber technology
Soft debridement, no tissue irritation
Unique droplet shape to allow debridement of shallow cavities and areas difficult to reach
Blister packaging to allow safe and aseptic soaking of the pad prior to use
Produces good results even with scaly and necrotic coatings.
Micro Technology, Maximum Cleaning
The Prontosan® Debridement Pad uses the latest technology in cleansing – microfibres. Microfibres are very small and utilise 'electrostatic forces' to attract even the smallest particles to them.
Each microfiber has a multiple strand structure, allowing for many more particles of slough and debris to be removed from the wound bed and bound to each microfiber within the pad; not just brushed away with traditional, much larger, monofilament fibres.
There are millions of microfibers in each Prontosan® Debridement Pad for magnified debridement power.
While necrotic tissue and slough can be optimally removed by Prontosan® Wound Irrigation Solution, it is also necessary to remove heavy encrustations
by keeping the wound moist for a longer period of time. This can be achieved by simply applying Prontosan® Wound Gel X with a secondary dressing.
Request further information on this product
Newsletter
Please enter your email address to subscribe to our newsletters.