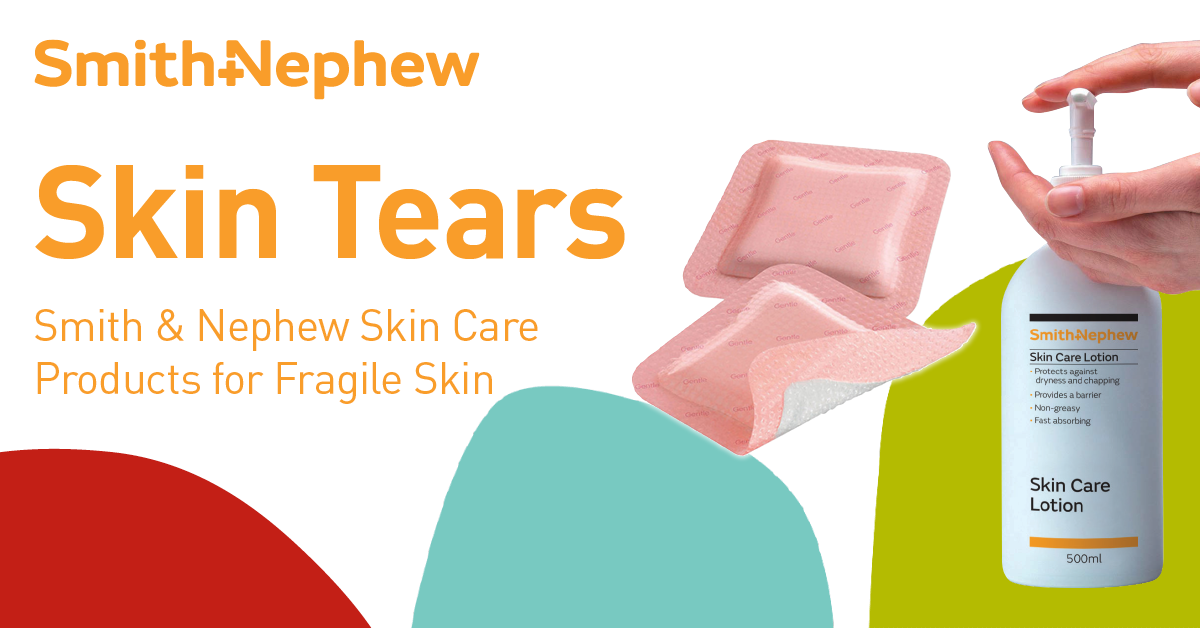 SKIN TEARS - HOW SMITH & NEPHEW CAN HELP?

Skin tears are traumatic wounds that may result from a variety of mechanical forces such as shearing or frictional forces, including blunt trauma, falls, poor handling, equipment injury or removal of adherent dressings. In already fragile or vulnerable skin (e.g. in aged or very young skin), less force is required to cause a traumatic injury, meaning that incidence of skin tears is often increased.
Wherever possible, prevention should be the aim when assessing, planning and implementing care for skin tears. The premise is that, by controlling modifiable risk factors, skin health can be maintained, and injury avoided.
WOUND CARE PRODUCTS FOR FRAGILE SKIN
When skin tears occur, it is vital that the wound care products chosen will optimise wound healing and not increase the risk of further skin damage.
This should include specialist dressings, and products to cleanse and moisturise the skin.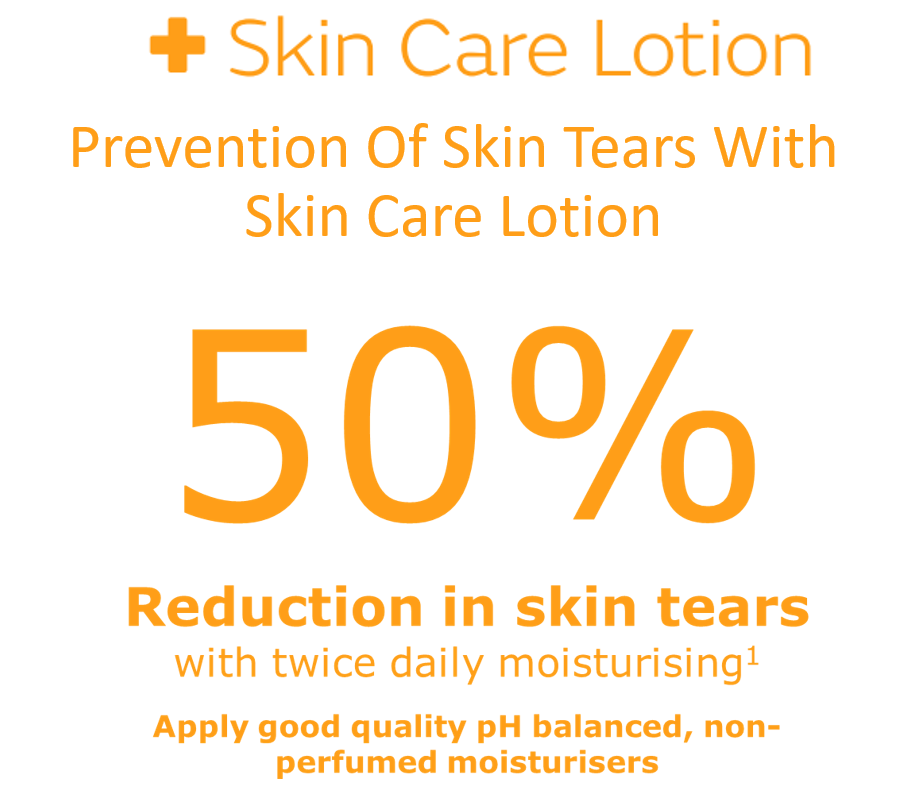 Carville K, Leslie G, Osseiran-Moisson R et al (2014) The effectiveness of a twice-daily skin-moisturising regimen for reducing the incidence of skin tears. Int Wound J 11: 446-53
Skin Care Lotion 500ml
Especially formulated for the harsh conditions encountered by skin every day.
Protects skin from chapping, dryness and the effects of detergent alkalinity.
Formulation ensures absorbency while softening your skin.
Providing a silicone barrier for lasting protection against harsh conditions.
Prevention of Skin Tears with the Ideal Dressing
The ideal dressing for managing skin tears should:
Control bleeding
Be easy to apply and remove
Not cause trauma on removal
Provide a protective anti-shear barrier
Optimise the physiological healing environment (e.g. moisture, bacterial balance, temperature, pH)
Be flexible and mould to contours
Provide secure, but not aggressive, retention
Afford extended wear time
Optimise quality of life and cosmetic factors
Be non-toxic
Be cost-effective (Carville and Smith, 2004; Wounds International, 2017).
ALLEVYN™ Gentle Border Lite – the freedom to move
That's the ALLEVYN difference.
A light and conformable dressing that is ideal for skin tears and hard to dress areas.
Providing greater conformability making it the ideal dressing for skin tears and hard to dress areas. The ALLEVYN Gentle Border Lite range has a soft silicone gel adhesive for skin that is particularly fragile or sensitive.
ALLEVYN™ Gentle Border Lite delivers fluid management via the triple-action technology which absorbs, retains and transpires the optimal balance of fluid. This optimises the moist wound environment and helps to promote healing. ALLEVYN Gentle Border lite has a thinner foam core
but still provides all the benefits of ALLEVYN Gentle Border:
Conformable – ensuring a more comfortable experience for patients
Optimal retention properties during wear due to the combination of the triple-action technology and the silicone gel adhesive
Ability to mould to the contours of awkward body areas
Easy to apply – can be lifted and repositioned without losing its adherent properties
Shower-proof dressing to enhance patient quality of life
Silicone wound contact layer which helps to minimise pain on removal – ideal for patients with fragile skin
Top film is an effective bacterial barrier – helping to minimise the risk of infection from external contaminants
Frequently Asked Questions