Welch Allyn
Based in Skaneateles Falls, New York, Welch Allyn was founded in 1915. Welch Allyn has brought a unique perspective to developing diagnostic solutions by combining pragmatic knowledge with a visionary spirit of innovation and ongoing improvement.
Since inventing the first direct-illuminating, hand-held ophthalmoscope, Welch Allyn has developed hundreds of breakthrough products and technologies to become a leading global manufacturer of physical examination instruments and accessories and EMR-connected vital signs and cardiac monitoring solutions.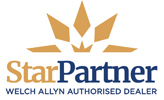 The company delivers everyday practical diagnostic tools that help doctors and nurses provide better care for their patients.
Welch Allyn continues to focus on the customer and imagine how healthcare will be delivered in the future to develop tools and future-proof technologies.
SHOP OUR FULL RANGE OF WELCH ALLYN PRODUCTS
---
Top Picks From Our Welch Allyn Range