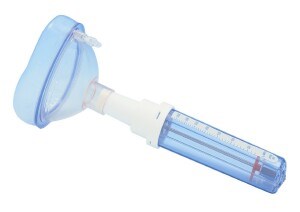 In-Check Nasal Inspiratory (with medium mask)
Code: 27769317
Supplier Part: 3109751
Unit: Each
The In-Check Nasal is a portable hand-held inspiratory flow meter that provides an assessment of nasal passage obstruction. The In-Check Nasal uses a simple measurement of how quickly the air can move through the nose when inhaling forcefully. The In-Check Nasal allows easy monitoring, on a daily basis, by the patient whereever they are, this provides an accurate assessment of nasal congestion and response to treatment.
The In-Check Nasal is:
Available with small, medium and large masks

The In-Check Nasal works when a patient inhales through the nose causing air to be drawn through the meter, a cursor moves along the scale to indicate the speed of inhalation. The flow rate achieved can be noted by checking the position of the cursor against the calibrated scale.
Request further information on this product
Newsletter
Please enter your email address to subscribe to our newsletters.