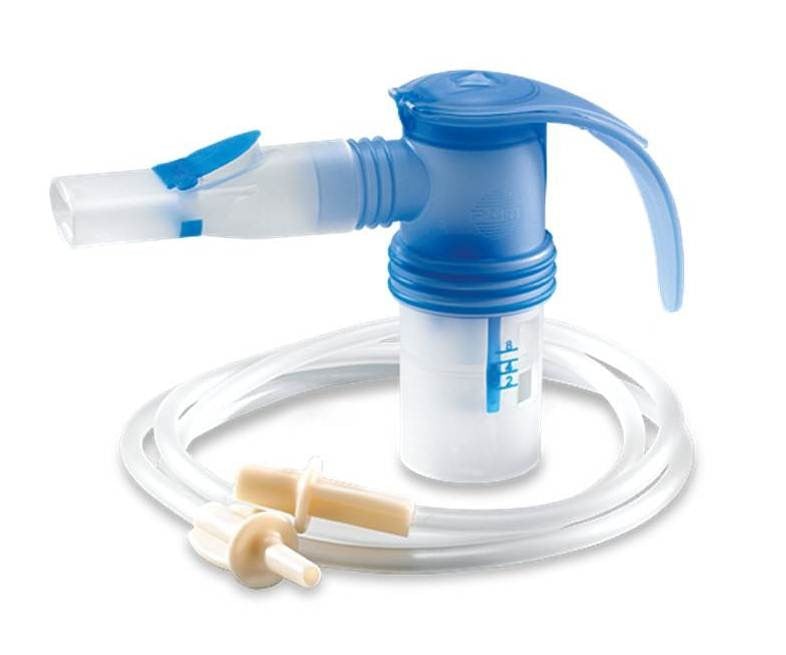 PARI BOY SX Year Pack Nebuliser
Code: 22141555
Supplier Part: 023G3011/023G8511
Unit: Each
Consists of PARI LC SPRINT® Nebuliser (blue nozzle insert), additional red insert, Mouthpiece, Connection Tubing (1.2m, f/m) and Filter.
Like all plastic parts, PARI Nebulisers are susceptible to a certain degree of wear when they are used and cleaned frequently. Over time, this can cause a change in the aerosol spectrum, for example, and impair therapeutic efficiency.
In order to ensure that your inhalation therapy remains effective for the long term, the compressor pressure should be checked regularly, and certain parts of the inhalation device should be replaced every year. Your PARI dealer will be glad to check the compressor pressure at the shop for you. To make the annual replacements easier, we offer the PARI Year Packs. These handy sets include everything to ensure that your inhalation device will continue to give peak performance for another full year: a nebuliser, connection tubing, and air filters.
Request further information on this product
Newsletter
Please enter your email address to subscribe to our newsletters.