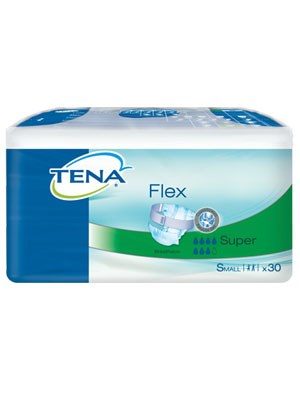 Tena Flex Super Small
Code: 23107227
Supplier Part: 724130
Unit: Pk 30
Bulk Unit: 3 per Ctn
Available in 3 absorbencies
Plus (small, medium, large, extra large)
Super (small, medium, large, extra large)
Maxi (small, medium, large, extra large)
A design breakthrough for wearers and carers alike. Easier and quicker to change than traditional products, they are particularly highly rated by carers of patients who are bed bound or who require assistance. The unique belted brief is designed to minimise the need for lifting and has been proven to reduce the risk of back strain on carers and makes changing less intrusive for the wearer.

Wearers also appreciate the thin discreet design with FeelDry™ technology for outstanding dryness; the breathable Air-Dry Layer™ backsheet that lets the air circulate preventing dampness on the skin and improving user comfort; the shape that leave the hips and thighs uncovered preventing chafing or sweatiness; and Odour Control™ for total freshness.
Request further information on this product
Newsletter
Please enter your email address to subscribe to our newsletters.