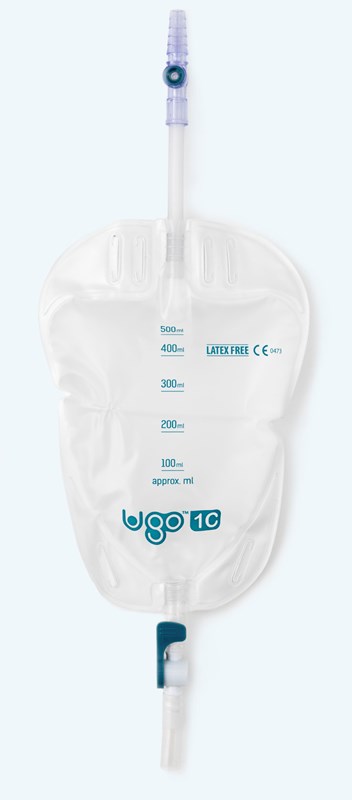 UGO 8C - 750ml Leg Bag Long Tube Lever Tap
Code: 32111107
Supplier Part: 8C/750/LT/L
Unit: BOX 10
UGO 8C - Leg Bag LT/Lever Tap
Ugo Leg Bags
Supplied with clear, comprehensive information and instructions, Ugo Leg Bags are safe, effective and simple to use. So patients in their own home, and carers in care homes with no nurse on hand, can use them with complete confidence.
We've even given the bags short, easy-to-remember names, to help clinicians and their patients order the correct ones quickly and easily.
For added comfort and peace of mind, we've also introduced kink-free soft silicone drainage tubing. This fits perfectly with our Ugo 2L Drainage Bags, ensuring patients can move around in bed without blocking or damaging the tubing.
Each bag is available with Lever Tap or T Tap drainage, and with or without fabric backing to suit your patients' preferences and the clinical environment. With fabric-backed Ugo Leg Bags, you get a pair of Ugo Fix Leg Bag Straps in every box. For those without fabric, there's a pair of Ugo Fix Leg Bag Straps in every pouch. You can also order boxes of 10 straps separately.
Other features of Ugo Leg Bags include:
Transparent universal stepped connector for secure fitting into all indwelling catheters
Needle-free sprung sample port, which locks the syringe for safe sample collection
Non-return valve to prevent urine going back up the drainage pipe
Reinforced eyelets to ensure level positioning with enclosed Ugo Fix Leg Bag Straps
Natural leg shape design
Durable but soft medical-grade plastic material for strength and reduced noise when moving
Request further information on this product
Newsletter
Please enter your email address to subscribe to our newsletters.