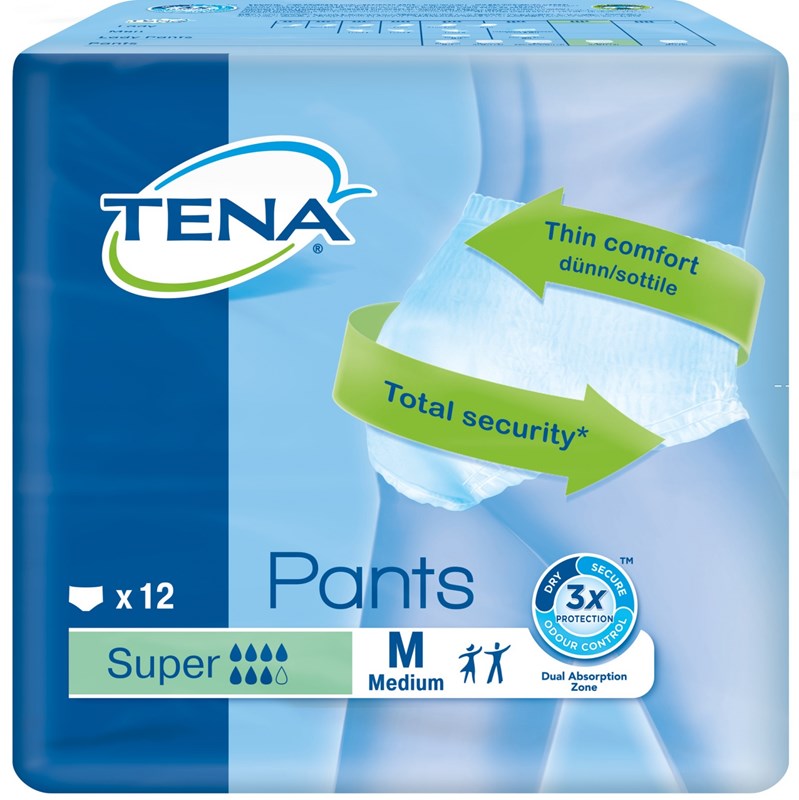 Tena Pants Super Medium 12s
Code: 23107276
Supplier Part: 793520/793512
Unit: PAC 12
Tena Pants Super Medium 12s
TENA Pants Super are disposable, discreet pants with a comfortable body-close fit. With a range of innovative features, they offer Triple Protection from leaks, odour and moisture.
Unique Dual Absorption Zone for optimum dryness and protection
When worn, our thin and flexible core shape forms two absorption chambers, also known as the Dual Absorption Zone, that efficiently channel moisture away from the body.
Integrated leakage barriers for additional security
TENA Pants are designed with integrated leakage barriers to provide the additional security that keeps you feeling dry, secure and confident.
Odour Neutraliser reduces the effect of ammonia (odour)
An Odour Neutraliser in the core of our TENA Pants reduces the effect of ammonia, neutralising unwanted odour to keep you fresh and confident.
Soft and breathable material for maximum comfort
TENA Pants are made from a stretchy, soft and breathable material that allows air to circulate for optimum skin health and comfort.
A body-close fit for improved comfort and discretion
TENA Pants have a body-close fit and thin flexible core shape to offer the improved comfort and discretion.
A wide range of absorbencies
TENA Pants come in a wide range of absorbencies to suit women experiencing moderate to heavy leaks.
Request further information on this product
Newsletter
Please enter your email address to subscribe to our newsletters.