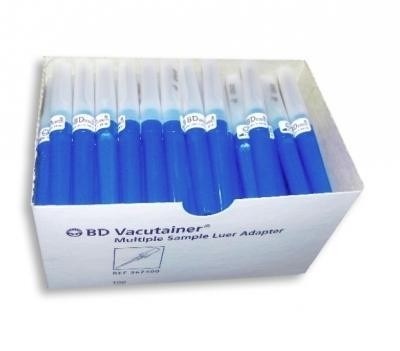 BD Multiple Smple Luer Adaptor
Code: 21120887
Supplier Part: 367300
Unit: BOX 100
BD Vacutainer Multiple sample Leur-Lok Luer adapter
BD Vacutainer Luer Adaptor, royal blue, multiple-sample, sterile, Luer adapter for blood collection from catheters and perfusion devices.
BD Vacutainer® Luer adapters are sterile devices with a multi-sampling valve and are designed for use with a catheter or hypodermic needle to collect blood with BD Vacutainer®blood collection tubes.
They are also ideal for use with any female luer fitting.
Request further information on this product
Newsletter
Please enter your email address to subscribe to our newsletters.