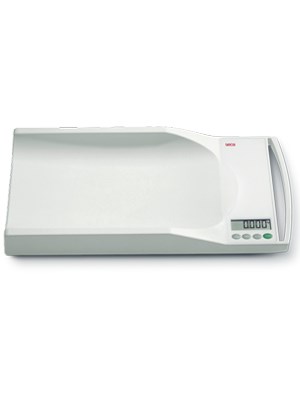 Seca Baby/toddler Electronic Scales
Code: 28845125
Supplier Part: ESE334
Unit: Each
Buy In Item
Capacity: 44 lbs / 20 kg
Graduation Weight: 0.5 oz / 5 g < 10 kg > 10 g
Weight: 6.2 lbs / 2.8 kg
Power supply: Batteries / Optional Power Adaptor
Dimensions: 25.1 x 4.1 x 11.8 inch / 638 x 105 x 300 mm / 23.4 x 2 x 10 inch dimensions platform / 595 x 50 x 255 mm dimensions platform
Functions: BMIF / Auto-HOLD / Automatic switch-off / Mobile measuring / TARE
Directive: MP/EMC
Mobile electronic baby scales
The weighing tray has a more generous and comfortable design than many other models, but the easy-to-transport seca 334 weighs only 6.2 lbs and requires surprisingly little space. With the large, clear LCD figures and the practical carrying handle – which can also be used to hang the scales. This battery-operated scale for babies and infants makes daily weighing very easy. The Breast-Milk-Intake-Function shows the exact amount of milk the baby has consumed.
Request further information on this product
Newsletter
Please enter your email address to subscribe to our newsletters.