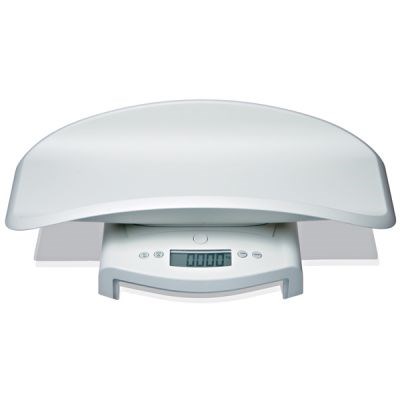 Seca Digital Baby Scales 20kg
Code: 28849251
Supplier Part: ESE354
Unit: Each
Capacity: 44 lbs / 20 kg
Graduation Weight: 0,5 oz < 22 lbs > 1 oz / 10 g < 10 kg > 20 g
Weight: 5 lbs / 2.3 kg
Power supply: Batteries
Dimensions: 21.7 x 6.1 x 13.1 inch / 552 x 156 x 332 mm / 20.7 x 3.1 x 9.8 inch dimensions tray / 525 x 80 x 250 mm dimensions tray / 11 x 2.6 x 9.3 inch dimensions platform / 280 x 65 x 235 mm dimensions platform
Functions: BMIF / Auto-HOLD / Automatic switch-off / Mobile measuring / TARE
Directive: EMC
Electronic baby scales with fine graduation, also usable as flat scales for children
Two scales in one: the seca 354 baby scales with a comfortable weighing tray and a fine graduation of 0.5 oz. In no time at all, it can be converted into a floor scale for children with a capacity of 44 lbs. The weighing tray and the base which serves as the floor scale are securely locked together, thus ensuring that the baby can be weighed absolutely safely. A further advantage of the scale is its Breast-Milk-Intake-Function which determines how much milk the baby has consumed. The robust but lightweight scale is easy to transport; self-explanatory buttons make it simple to operate.
Request further information on this product
Newsletter
Please enter your email address to subscribe to our newsletters.