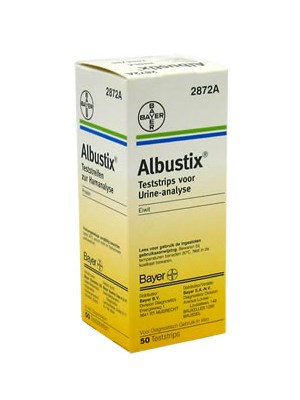 Albustix Strips
Code: 20172870
Supplier Part: LAB032/2870
Unit: Pk100
Albustix Reagent Strips for urinalysis provide a fast, convenient way of testing urine for the presence of protein.
Albustix is a firm plastic strip with a test area made of special chemicals which can be used to test for protein in urine. Test results may provide information on kidney function.
The reagent test area on Albustix is ready to use upon removal from the bottle and the entire reagent strip is disposable. No additional laboratory equipment is necessary for testing. The directions must be followed exactly. The reagent strips must be kept in the bottle with the cap tightly closed to maintain reagent reactivity.
Request further information on this product
Newsletter
Please enter your email address to subscribe to our newsletters.