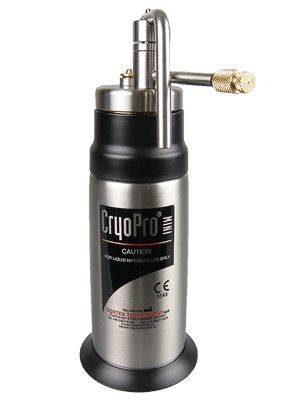 Cryopro Mini Standard Tips and Cleaning Adapter
Code: 28950002
Supplier Part: 002/POS2
Unit: EA
CryoPro Mini Flask is liquid nitrogen cryosurgery at your fingertips. CryoPro is a series of cryosurgical treatment units providing outstanding performance in terms of safety, ease of operation and reliability.
Liquid nitrogen cryosurgery
Suitable for use by both GP and Specialists
350ml Capacity

As standard CryoPro comes with the following accessories:

Open spray tips: 1 x A (spray opening 1 mm)

1 x A (spray opening 1 mm)
1 x B (spray opening 0,75 mm)
1 x C (spray opening 0,55 mm) – mounted on the Cryo
1 X D (spray opening 0,45 mm)
1 x Bent spray (spray opening 0,55 mm)

1 cleaning adapter (see attached guide)
1 holder for the tips

Image is sample of product

3 Year Guarantee
12 - 14 Hour Static Holding Time
Request further information on this product
Newsletter
Please enter your email address to subscribe to our newsletters.