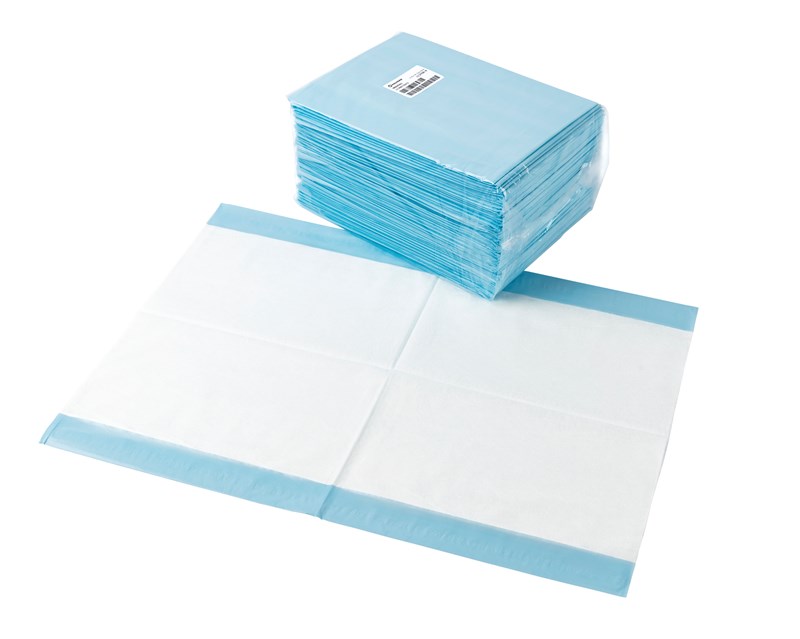 HALYARD* Underpads, 8 ply, 39.5 x 55 cm
Code: 35915107
Supplier Part: 2768
Unit: CAR 200
HALYARD* Underpads is the ideal protector for linen and furniture.
Available in 5 & 8 ply grades, providing differing levels of fluid absorption depending on the procedure. Can be used as a protector for linen and furniture, a bed sheet, a mattress protection, chair protection, cover for benches in plaster room and a pillow protector.
It is made of highly absorbent layers of tissue and a polyethylene backing to prevent strikethrough. The Spunbound top layer provides softness and comfort for patients. The soft blue
Polyethylene backing is quiet and drapable.
It is now available in a folded format (quarter fold), instead of the flat sheet format.
The benefits of this change include:
Saves time – for many customers who manually fold the underpads reducing staff and volunteers time.
Saves space – for storage on shelves and trolleys
Easier to transport – no need to carry a large shipper, each poly bag can be transported throughout your facility
Request further information on this product
Newsletter
Please enter your email address to subscribe to our newsletters.