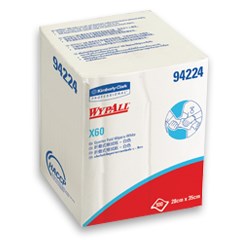 Wypall X60 Single Sheet Wipers
Code: 35924490
Supplier Part: 94224
Unit: Ct
WYPALL* X60 Wipers are versatile, offering a balance between performance and value. They combine softness and absorbency, making them ideal for personal wiping. WYPALL* X60 Wiping Cloths can also be used to clean tight corners on machinery due to their flexible nature.
The self-dispensing poly-bag is portable, so the wipers can be taken to where they are needed.
• Strong wiper construction ensures longer lasting performance, maintaining strength wet or dry
• Single-use, highly absorbent wiper minimises the risk of cross-contamination
• Extremely soft and gentle in texture, especially when wet, making wiper suitable as a personal wash cloth
• Versatile and economical, delivering a balance between performance and value
• Very flexible, enabling you to clean in the tightest of corners
• Efficient and hygienic dispensing systems allow easy access to wipers for immediate use, while ensuring that individual wipers are hygienically dispensed
WYPALL* X60 Wipers are ideal for:
• Personal wiping in a Healthcare environment
• Wiping surfaces
• Absorbing spills
• Polishing glass or stainless steel
• General cleaning
Request further information on this product
Newsletter
Please enter your email address to subscribe to our newsletters.