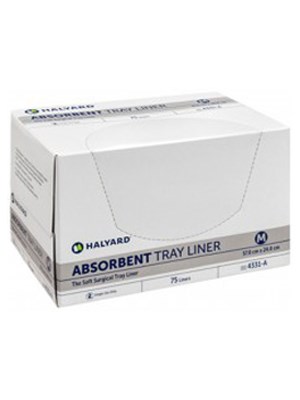 HALYARD* Absorbent Tray Liners, Small 21.5 x 24 cm
Code: 35924330
Supplier Part: 4330C/4330
Unit: PAC 124
HALYARD* Absorbent Tray Liners are made from highly absorbent hydroknit material that can absorb up to five times their own weight in water. The thickness of the liners helps protect instruments by providing a cushion during sterilisation, transportation and storage. They also help prevent tearing and abrasion of sterilisation wrap when used between the wrap and tray (particularly around tray corners). This can assist with eliminating the time taken to reprocess trays. HALYARD* Absorbent Tray Liners are suitable for use in Pre-Vac Steam and EO Sterilisation.
Features/Benefits:
Highly absorbent hydroknit material
High strength
Cut to suit sterilisation trays
Low linting
Thick dense material to protect instruments, providing cushioning during sterilisation, transport and storage
Single use, to help reduce risk of cross-contamination
Can be used in a variety of applications
Surgical instrument tray liner
Surgeon's scrub towel

Hand towel

Equipment protection
General wiper
Specifications:
Size: Small - 21.5cm x 24cm
UOM: Pkt/ 125
Image is sample of product
Request further information on this product
Newsletter
Please enter your email address to subscribe to our newsletters.