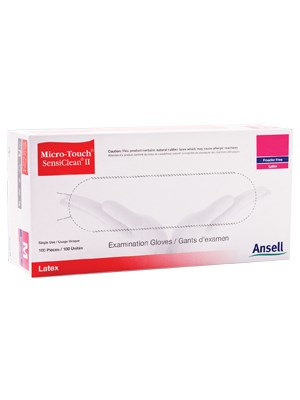 Ansell Micro-Touch SensiClean II Powder Free Latex Exam Glove Petite
Code: 34016200
Supplier Part: 4566 II
Unit: BOX 100
Powder Free Latex Examination Gloves
Micro-Touch SensiClean II examination gloves combine excellent tactility with high levels of comfort. This glove has been designed for caring for frail skin while delivering a positive, non-aggressive grip. Micro-Touch SensiClean II is also the glove of choice for those wishing to double glove.
Areas of use
• Venipuncture.
• Geriatrics.
• Double gloving.
• Endoscopy.
• Frail skin care.
• Dental practice.
Glove colour
• Cream colour
Special features
• Ambidextrous powder free gloves with excellent tactile sensitivity.
• Mild textured gloves with a very comfortable fit and feel.
• Ideal product for effortless double gloving.
• Low allergenicity glove due to both low chemical residues and latex protein (total protein levels less than 50ug/dm2) and the absence of powder.
• Thiurams and mercaptobenzotiazoles free, decreasing the risk of allergic contact dermatitis.
• Layer pack for easier dispensing and reduction of waste – save on glove wastage.
• Three year shelf-life.
• Full size range – XS to XL (five sizes).
Surface finish
• Mild textured surface for secure wet and dry grip while still very gentle on the patient's skin. If higher grip levels are required, please try Micro-Touch® DermaClean®.
Glove type
• Chlorinated powder free glove.
Cuff features
• Beaded cuff
Glove properties
• Material: Natural Rubber Latex (NRL).
• Colour: Cream.
• Donning agent: None.
• Design: Ambidextrous with beaded cuff.
• Fingertip thickness (single): 0.11mm.
• Cuff thickness (single): 0.08mm.
• Length: 240mm
Quality standards
• Statistically tested to an AQL of 1.5 for pinholes (exceeds world standards).
• Manufacturing facilities are both FDA certified – Good Manufacture Practice (GMP) and ISO 13485 certified.
• Complies with AS/NZS 4011:1997.
Request further information on this product
Newsletter
Please enter your email address to subscribe to our newsletters.