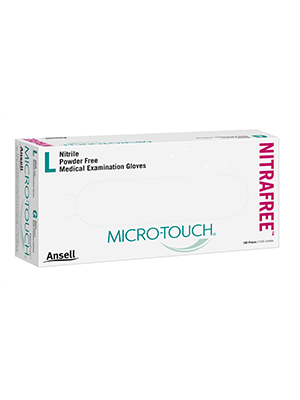 Ansell Micro-Touch NitraFree Powder & Latex Free Pink Nitrile Exam Glove Medium
Code: 34014512
Supplier Part: 4512
Unit: Bx100
Bulk Unit: 10 per Case
We are pleased to announce a price decrease for selected Ansell Microtouch Exam Gloves which will come into effect from Monday 14th February. We will continue to review pricing to make sure we pass on any further reductions throughout 2022.
Micro-Touch® NitraFree™
Accelerator-Free, Nitrile Examination Gloves
Micro-Touch® NitraFree™ pink examination gloves are powder, latex and chemical accelerator-free, making them the ideal choice for those suffering from a latex allergy or a chemical accelerator sensitivity. Made from a softer nitrile formulation for increased comfort, Micro-Touch NitraFree also feature nitrile's characteristic high resistance to tear, puncture and chemicals, including chemotherapy drugs.
Micro-Touch NitraFree latex free examination gloves are suitable for use by people with sensitive skin conditions including: latex allergy, contact dermatitis or chemical allergies and sensitivities.
Areas of Use
General wards
Chemotherapy drugs administration areas
Scope cleaning
Emergency departments
Labs
Dental
Sterilising departments
Special Features
Latex- free examination gloves, suitable for use by latex-allergy sufferers
Powder-free gloves to eliminate powder related complications
Chemical accelerator-free for minimising the risk of latex allergy Type IV or allergic contact dermatitis
Textured fingers for excellent grip in wet and dry conditions
Synthetic gloves made from a soft, nitrile formulation for increased comfort levels
High resistance to punctures and tearing
Good chemotherapy drug resistance (FDA approved*)
Excellent resistance to a broad range of commonly used chemicals including chemotherapy drugs
Ambidextrous design with beaded cuff for ease of donning
Pink colour for easy identification as a synthetic glove
Layer pack for easier dispensing and reduction of waste
3 year shelf-life
Available in four sizes: S- XL
240mm cuff length**
Request further information on this product
Newsletter
Please enter your email address to subscribe to our newsletters.