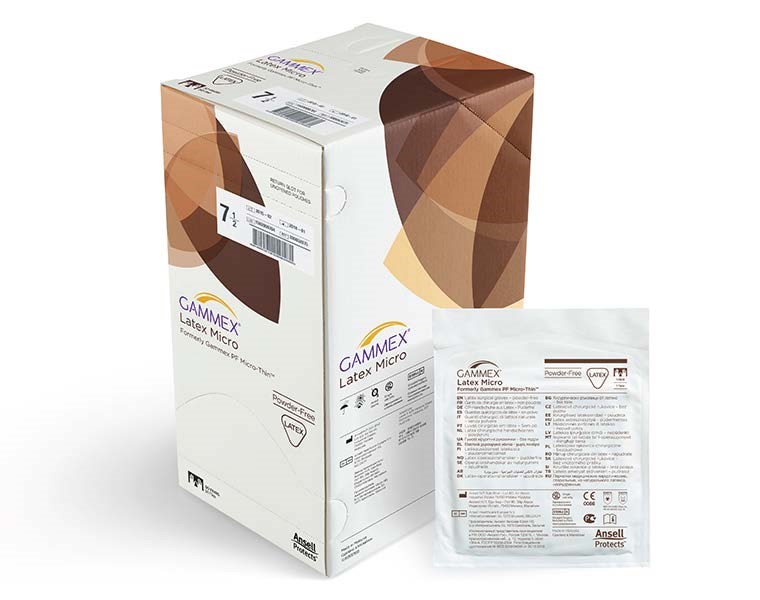 Ansell Gammex Latex Micro Glove Size 7.5
Code: 35004536
Supplier Part: 330052075
Unit: Bx 50
Bulk Unit: 4 per Case
Gammex® PF Micro-Thin™
Powder Free Latex with Polymer Lining
Gammex® PF Micro-Thin™ combines all that you love about Micro-Thin™ Nutex® with advanced properties associated with Gammex® PF. Incorporating Ansell's advanced hydrophilic/hydrophobic polymer lining to assist with damp or dry donning, Gammex PF Micro-Thin surgical gloves deliver the benefits of increased sensitivity combined with superior donning. Gammex PF Micro-Thin are ideal microsurgery gloves.
Special Features
Unique latex formulation delivers thin surgical gloves for heightened sensitivity - ideal for microsurgery or sensitive procedures
Powder-free latex providing the best clinical practice with less post-operative sequale
Textured finger and palm area for enhanced wet and dry grip
Polyurethane (animal free) lining with hydrophilic and hydrophobic elements to facilitate damp donning and intra-operative changes
Excellent moisture control to maintain glove shape, fit and feel
P.E.A.R.L. technology to reduce extractable protein levels, reducing risk of latex sensitisation
Made on a straight finger former for best fit and feel
Shaped finger pads for improved finger sensitivity and surgical finesse
Smooth upper surface to reduce friction with instrumentation and tying sutures
Graduated palm thickness to reduce hand working pressures
Relocated thumb ball reduces working resistance when double donned
Reduced cuff roll down and easier donning
Tapered thickness to reduce carpal tunnel pressure when double donned
Cuff printing of brand and L and R for easy identification
Sticky band for improved gown sleeve grip
Tan coloured natural rubber latex to reduce light flare under operative lights
Specifications
Size: 7.5
UOM: box/50 pairs
Image is sample of product
For Ansell product brochure please click here
Request further information on this product
Newsletter
Please enter your email address to subscribe to our newsletters.