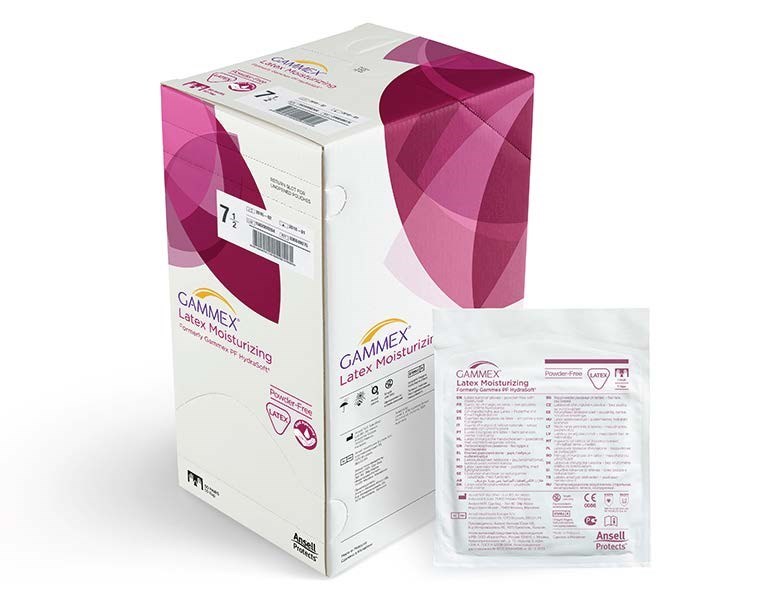 Ansell Gammex Latex Moisturising Glove Size 7
Code: 35004495
Supplier Part: 330049070
Unit: BOX 50
Moisturising Powder Free Surgical Glove
Gammex PF HydraSoft delivers new standards of protection by caring for your skin whilst you operate. Surgical scrubs are drying and abrasive so we have added a moisturiser to the polymer lining of our leading surgical glove, Gammex® PF. You skin is your primary barrier and now your secondary barrier, the surgical glove, moisturises your dried skin whilst providing premium barrier protection. Feel the difference with Gammex PF HydraSoft.
Glove Colour
White coloured natural rubber latex
Special features
Skin moisturiser to sooth dried skin thus maintaining hand health.
Powder free latex providing the excellent clinical practice with less post-operative sequale, more cost effective.
Polyurethane (animal free) lining with hydrophilic and hydrophobic elements which facilitates damp donning and intra-operative changes.
Excellent moisture control which maintains glove shape, fit and feel and reduces risk of electrosurgical shock.
P.E.A.R.L. (Protein and Endogenous Allergen Reduction Leaching) technology that delivers a glove with50ug/dm² extractible proteins, reducing risk of latex sensitisation.
PV100 accelerator becomes gases which are completely consumed during processing leaving non detectable residue – chemical accelerator residue thereby reducing the risk of contact dermatitis.
Glove Type
Powder free, polymer lined, with finely controlled chlorination process to ensure consistent dry and wet grip.
Shape and features
Made on a straight finger former for excellent fit and feel.
Thinner and shaped finger pads for improved finger sensitivity and surgical finesse.
Textured under surface of fingers and palm for maximum grip, both wet and dry.
Smooth upper surface to reduce friction with instrumentation and tying sutures.
Graduated palm thickness to reduce hand working pressures.
Relocated thumb ball reduces working resistance when double donned.
Cuff features
Tapered straight cuff for improved gown grip, reduced cuff roll down and easier donning.
Tapered thickness to reduce carpal tunnel pressure when double donned.
Cuff printing of brand, size and L and R for easy identification.
Sticky band for improved gown sleeve grip.
Quality standards
Statistically tested to an AQL (Acceptable Quality Level) of 0.065 before packaging.
Carries CE mark.
Gamma irradiation sterilised.
Meets EN standards.
FDA certified – Good Manufacture Practice (GMP).
Use of virgin packaging materials, minimises field contamination.
Specifications
Size: 7
UOM: box/50 pairs
Image is sample of product
For Ansell product brochure please click here
Request further information on this product