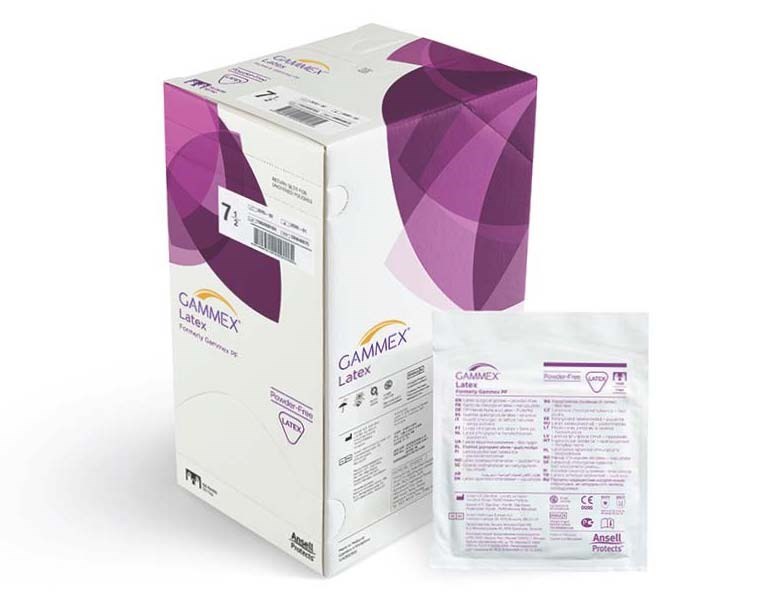 Ansell Gammex PF Powder Free Latex Surgical Glove Size 8 (PAIR)
Code: 26690219
Supplier Part: 330048080/PAIR
Unit: EA 2
Use EBOS code 34014155 for Box 40
Gammex® Powder-Free gloves
Powder-Free Latex Surgical Gloves
Gammex® PF latex surgical gloves provide excellent donning and comfort through the use of a hydrophilic/hydrophobic polymer lining allowing for both wet and dry donning. The wide thumb ball area combined with Ansell's soft latex formulation ensures greater comfort and less hand fatigue.
Special Features
Powder-free latex glove offering strength, softness, comfort and grip
Polyurethane (animal derivatives- free) lining with hydrophilic and hydrophobic elements to facilitate damp donning and intra-operative changes
Excellent latex moisture control maintains shape and fit with hand
P.E.A.R.L. wash technology to reduce residual protein levels, reducing risk of latex sensitisation
Mild textured finish for secure handling of instruments in wet and dry conditions
Thinner and shaped finger pads for improved finger sensitivity
Relocated thumb ball reduces working pressures of the glove during procedures
Tapered straight cuff for improved gown grip
Sticky band for improved gown sleeve adherence
Reduced carpal tunnel pressure when double donning
Cuff printing of brand, size and L and R for easy identification
Image is sample of product.
Request further information on this product
Newsletter
Please enter your email address to subscribe to our newsletters.