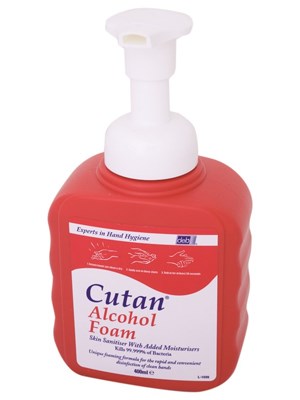 Cutan Alcohol Foam Sanitiser 400ml
Code: 32520002
Supplier Part: CAF400ML
Unit: Each
Bulk Unit: 12 per Case
DEB Cutan Foam Sanitiser is a unique, worldwide patented*, high efficacy foaming alcohol sanitiser that works instantly to kill bacteria present on skin.
Key Features and Benefits:
Pleasant To Use - Rich foam is extremely pleasant for frequent use in between hand washing to encourage maximum compliance
Instant Action - Starts working immediately to rapidly kill bacteria, yeast and moulds
Economical In Use - Spreads easily across the skin for maximum efficiency
Unique Foam Format - Quickly and easily rubs across the hand with no drips or splashes
Fast Drying - Dries quickly with no need for rinsing or drying with towels
Non-Tainting - Proven non-tainting formula
Conditions Skin - Contains conditioner to help prevent skin dryness and leave the skin feeling soft and smooth for an excellent after feel
Glove Compatible - Can be used prior to applying gloves
Dermatologically Tested - Formula has been tested to prove it is non-irritant
No Gelling Agents - Leaves no sticky after feel; does not clog dispensers; leaves no mess
High Efficacy Formula - Independently tested to the highest European standards, proven to kill 99.999& (log 5 reduction) of food poisoning bacteria, moulds and yeasts
USAGE: Use frequently or when needed. Designed to complement the Cutan skin hygiene system
Request further information on this product
Newsletter
Please enter your email address to subscribe to our newsletters.