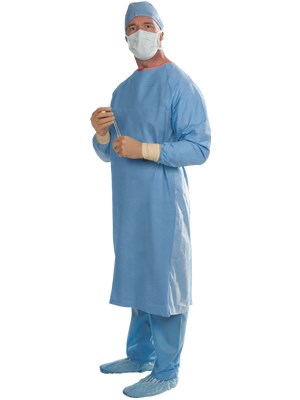 Aero Blue Performance Gown XXX-Large – Pkt/24
Code: 35910366
Supplier Part: 41874
Unit: Ct 24
The Aero Blue Performance Surgical Gown is lighter, more breathable, amazingly soft with four times more fluid protection in the critical zones than other gowns. Aero Blue's innovative fabric features the proprietary Cool Shield Core technology that lets moisture vapour pass through without fluid penetration. It also builds in softness and elasticity for freedom of movement without tearing.
Features/Benefits:
The only AAMI3 gown fabric with a protective core
The lightest weight for single-use AAMI3 gowns
Excellent resistance to abrasion
Highest rating against ignition from surgical lasers and other heat sources
Cool shield core technology makes the gowns more protective, softer, thinner and lighter
4 times more protective than leading non-reinforced surgical gowns
Unsurpassed comfort with soft fabric and breathable core
Specifications:
Colour: Blue
Size: XXX-Large
Sterile
UOM: Pkt/24
Image is sample of product
Request further information on this product
Newsletter
Please enter your email address to subscribe to our newsletters.