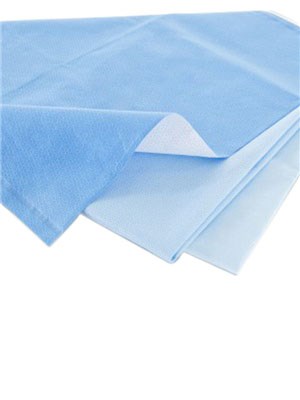 Quick Check* Sterilization Wrap H200 137x137cm - Ctn/48
Code: 35930215
Supplier Part: 34187
Unit: Ct48
HALYARD* QUICK CHECK* Sterilization Wrap is the fast, easy way to ensure instrument sterility is uncompromised. It's easy to see what sets QUICK CHECK* apart. With two colors - white and blue - bonded together, inspecting trays is easier and faster than ever! Quick tip - to make specific trays stand out from the rest, simply wrap with the other color out. QUICK CHECK* Wrap gives you the same time savings of HALYARD* KIMGUARD* ONE-STEP* Wrap, along with protection and performance you expect. Like all HALYARD* Wrap, QUICK CHECK* provides superior microbial barrier protection with our patented POWERGUARD* technology. And, it's cleared for all of the same sterilization systems as HALYARD* KIMGUARD* ONE-STEP* Wrap. Because it's ONE-STEP*, it's easy to make the switch to QUICK CHECK* Wrap. So, you can enjoy the benefits of this innovative wrap without having to retrain your staff or change your protocols
Features:
Comes with white and blue colors that are bonded together - inspect trays easier and faster than ever
Superior microbial barrier protection with patented Powerguard technology
Cleared for all of the same sterilization systems as HALYARD* KIMGUARD* ONE-STEP* Wrap
Made from recyclable #5 polypropylene fabric
Made in the USA
Specifications:
Fabric:

H200

Dimensions (in.):

54 X 54

Dimensions (cm.):

137 x 137

Suggested Wrapped Package Content Weight (lbs.):

3–6 lbs.

Suggested Uses Based on Wrap Grade:

Linen towels, gowns, light basin sets, single instruments

Sterile: No

Natural Rubber Latex Free: Yes

Low Lint: Yes

Pre-Vacuum Steam Compatible: Yes

Name: HALYARD* QUICK CHECK* Sterilisation Wrap

Type: Simultaneous wrap

Only One Application Needed per Tray:

Yes

Colour Contrast Fabric for Faster Inspection:

Yes

Pre-Vacuum Steam and Ethylene Oxide (EO) Compatible:

Yes

Patented POWERGUARD* Technology:

Yes

Reference Line for Accurate Tray Placement

:

No

Pull Tabs for Easy Aseptic Opening

:

No

Positioning Strip

:

No

3-Layer Reinforcement Zones

:

No

Blue Renew* Wrap Recycling Product

:

Yes

Made from Recyclable #5 Polypropylene Fabric

:

Yes

Flame Resistance

:

Meets NFPA Class 1

UOM: Ctn/48

Image is sample of product
Request further information on this product
Newsletter
Please enter your email address to subscribe to our newsletters.