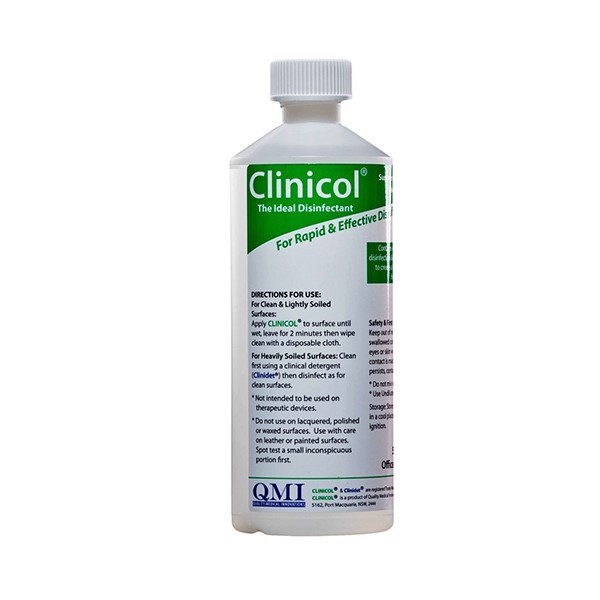 Clinicol Refill Pack 500ml (without spray trigger)
Code: 25135551
Supplier Part: QMICCOL-500/COLR
Unit: EA
Clinicol - Surface Spray Disinfectant (Hospital Grade)
A Hospital grade disinfectant specially formulated for rapid and convenient disinfection of hard surfacesSurface Spray Disinfectant (Hospital Grade)
Formulated for rapid surface disinfection.
Fresh and unobtrusive, containing Australian essential oils for a natural fragrance.
Eliminates odours by destroying the bacteria that create unpleasant odours.
Non-corrosive - No alkali, chlorine or salts.
Wide germicidal activity. (Kills Bacteria)
Contains cleaning agent to disperse and remove light soils.
Safe and effective, with "mist" free applicator
Clinicol is formulated to be an effective surface disinfectant for the:
Hospital Environment - Day Care Theatre
Nursing Home
Veterinary Practice - Animal Hospitals
Medical & Dental Surgery
Podiatry & Physiotherapy Practice
Home - Office or Factory
Clinicol Advantages:
Fast acting - just spray on and leave for two (2) minutes.
The essential oils leave a fresh natural fragrance.
The ideal air freshener. does not mask over odours but kills the bacteria that create odours at their source.
Non-corrosive - will not corrode, stain or stick to metals as do water-based chlorine, chlorhexidine or iodine products.
Wide germicidal activity ensures that disinfection of the surface is broadly effective and not just selective. More effective disinfection.
Incorporates a highly effective wetting agent to aid and accelerate rapid contact with the contaminating micro-organisms.
Easy to use - just apply to surface. The applicator produces a "foam" mode that reduces "misting" or aerosol particles in the air.
Available in a convenient 500ml starter pack, includes trigger applicator (Code COLS) or 500ml ml refill pack (Code COLR)
Request further information on this product
Newsletter
Please enter your email address to subscribe to our newsletters.