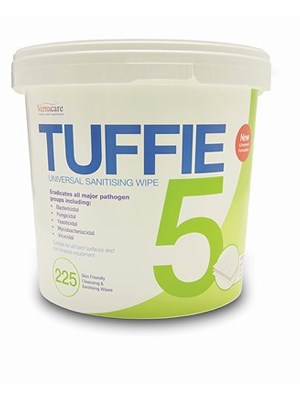 Tuffie 5 Wipes Tub of 225
Code: 22440008
Supplier Part: 901SW225BX/AU
Unit: Each
Bulk Unit: 4 per Case
We are currently experiencing very high demand for this product, so there will be a delay in fulfilling your order. Please be assured we are working with our suppliers to expedite more stock as soon as possible.
Tuffie 5 Sanitising Wipes are powerful alcohol and chlorine-free wipes, ideal for cleaning and disinfecting all non-porous surfaces and non-invasive equipment
The universal cleaning & disinfecting wipe which eradicates all major pathogen groups inluding:
Spores e.g. Clostridium difficle
Viruses e.g. Norovirus & H1N1
Bacteria e.g. E.Coil & MRSA
Mycobacterium e.g. Mycobacterium Terrae
Yeast & Fungi e.g. Candida albicans
High standards of environment hygiene The new formulation has proven efficacy in the new rigorous 4-Field Test (BS EN16615:2015). It is bactericidal, fungicidal, yeasticidal, mycobacteriacidal and virucidal.
A breakthrough in non-woven technology
All Tuffie wipes feature a new and improved triple layered fabric with, emboss pockets and a microfiber core which absorbs and traps surface soils and holds onto bacteria and bio-film to prevent cross-contamination. The triple layered construction gives strength, softness, absorbency and is non-linting.
Outstanding performance and choice
Cleans and sanitises all hard surfaces and non-invasive equipment. Tuffie 5 wipes are packaged in standard 225-wipe buckets, 150-wipe flexible canisters and dispenser refill pack
Request further information on this product
Newsletter
Please enter your email address to subscribe to our newsletters.