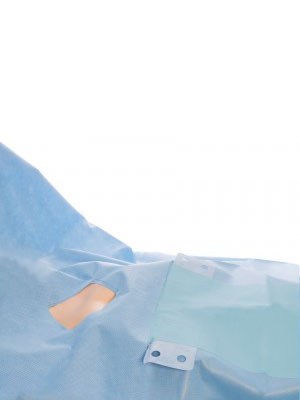 Halyard Thyroid Drape Sterile Each
Code: 35935195
Supplier Part: 89255
Unit: Each
Bulk Unit: 13 per Case
For the full range of general procedures, we've got you covered. From laparotomy and endoscopic drapes to breast, chest and thyroid drapes, Halyard Health has adaptable systems that offer maximum flexibility for surgical procedures.
Features:
Maximum rating for flame resistance for use around lasers and other electrical instruments

Fabric that's resistant to tearing, strike-through, and abrasion, while providing secure attachment for line and tubes

Resistance to strike-through from alcohol and other prep solutions

Lower lint than other drapes to reduce the risk of airborne bacterial transmission

A choice of fabric reinforcements designed either to reduce instrument slippage or control fluid run-off

Convenient tube and line management systems, including troughs and hook & loops
Specifications:
Drape Dimensions(in.): 76 x 124

CONTROL* Plus Fabric Reinforcement: Yes

Sterile: Yes
Fenestration Type: One 5 X 5 in. diamond
Instrument Pad: Yes
Category: General Surgery
Procedures: Thyroid / general / pacemaker / vascular / spine
Drape Type: General/ procedural
Procedure Type: Heart / vascular
Surgical Specialty: General / universal
Fabric/Weight: SMS/standard
Line Control System: Fabric tube holders
Item Packaging: Individually wrapped
UOM: Case/13

Image is sample of product
Request further information on this product
Newsletter
Please enter your email address to subscribe to our newsletters.