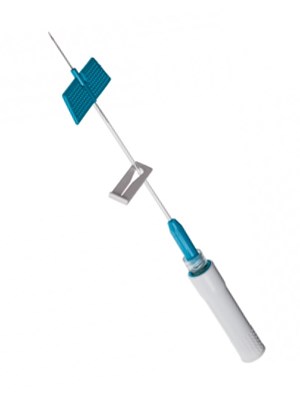 BD Saf-T-Intima Integrated Cannula with PRN 22g x 0.75'' (blue) each
Code: 21120983
Supplier Part: 383322
Unit: Each
Bulk Unit: 25 per Box
BD Saf-T-Intima closed IV catheter system combines advanced needlestick safety with an innovative closed catheter system design. The result is a virtually bloodless insertion and greater safety for you, all from the first and only integrated IV catheter system available for vascular access.
The patented shielding design incorporates a telescoping needle shield that passively covers the stylet as it is withdrawn from the catheter, safeguarding the clinician and others from potential sharps injury.
The pre-attached extension tubing offers a closed system, ensuring a virtually bloodless venipuncture. BD Saf-T-Intima closed IV catheter system lets you set an extra level of defense against exposure to bloodborne pathogens.
For added versatility, the removable PRN adapter allows the use of any needleless closed IV access device. The BD Saf-T-Intima closed IV catheter system with "Y" adapter allows for prepriming and flushing during venipuncture.
Request further information on this product
Newsletter
Please enter your email address to subscribe to our newsletters.