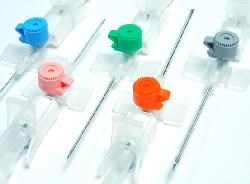 BD IV Catheter Venflon Pro Safety 20g x 32mm (pink)
Code: 21120904
Supplier Part: 393224
Unit: Pk 50
Bulk Unit: 10 per Ctn
with Injection Valve
BD Venflon™ Pro Safety Peripheral Safety IV Catheter with Injection Valve Sterile, single use

BD Venflon™ Pro Safety is a multi-functional device designed to help protect you from exposure to blood borne pathogens via needle stick and mucocutaneous injuries. For use in all departments, with a full range of features to suite most clinical applications.
Once activated, the needle tip is fully encapsulated inside the protection mechanism, which is designed to minimise the risk of scratching yourself.
The unique design captures residual blood safely within the device, thereby minimizing the risk of unanticipated blood splatter during and after activation
Request further information on this product
Newsletter
Please enter your email address to subscribe to our newsletters.