The O&M Halyard AQUASOFT* exam gloves are now listed and used across hospitals in ANZ. We welcome the opportunity to partner with you to help protect patients and healthcare professionals.
At Halyard, we take our role of protecting you and your staff very seriously. That's why the claims we make on our products have been rigorously tested. As a vertically integrated manufacturer, we design our gloves, perform quality checks and address quality issues for future continuous improvement. We are proud to provide high quality products that protect those who care for our communities.
HALYARD* NITRILE EXAM GLOVES DELIVERS QUALITY, COMFORT & PROTECTION
AQUASOFT*
ideal everyday exam glove.
Tested against 36 chemotherapy drugs.
Increased pack size of up to 3000 eaches per case, saving you up to 67% storage space as compared to standard 100 count boxes.
It's what you can't see that delivers quality
No Filler, Highest Quality Nitrile
Often low-quality, low-cost gloves are filled with filler ingredients such as clay or calcium carbonate2 (chalk) that may irritate eyes, nose, mucous membranes, and skin.
HALYARD* Nitrile Exam Gloves are made with only the highest quality raw materials, pass stringent quality controls and are filler free.3
Low AQL, High Quality, 60% Less Defects
What is AQL (Acceptable Quality Level)?
AQL is an indicator of glove quality. The lower the AQL, the higher the product quality and lower the incidence of pin-holes and other defects, which can create a barrier breach and ultimately lead to infection.
HALYARD* Nitrile Exam Gloves exceed the ASTM D6319 glove standard, providing an AQL as low as 1.0 and 1.5.4

Increased Confidence with 26 Quality Checks
Stringent internal manufacturing controls require each batch of HALYARD* Nitrile Exam Gloves to pass 26 quality checks, providing the highest level of confidence in glove performance, quality, and protection.5
Optimal Balance of Strength and Tactile Sensitivity
HALYARD* has developed expertise in the design and manufacture of nitrile exam gloves, optimising the balance of strength and weight, to create a thinner glove for tactile sensitivity, whilst meeting the ASTM D6319 standard for superior protection.6
Ideal for Stockpiling - Save up to 67% Storage Space
HALYARD* Nitrile Exam Gloves:Offer up to a 5 YEAR SHELF LIFE.7Aquasoft features increased pack size of up to 3000 eaches per case, saving you up to 67% STORAGE SPACE as compared to standard 100 count boxes.
Established Brand for over 20 Years
HALYARD* Nitrile Exam Gloves are designed and manufactured with more than 22 years' experience, producing consistently high quality gloves. A vertically integrated supply chain delivers you confidence in quality, at every step of the process.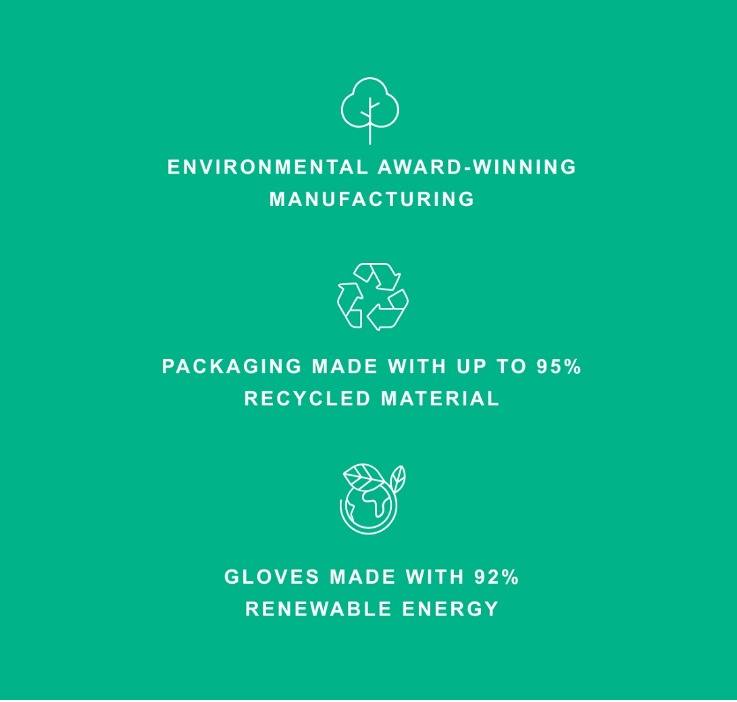 Sources:
1.Hübner, NO., Goerdt, AM., Mannerow, A. et al. The durability of examination gloves used on intensive care units. BMC Infect Dis 13, 226 (2013);
2.https://blog.eagleprotect.com/are-you-paying-for-cheap-glove-fillers;
3-7.Data on file;
*Registered Trademark or Trademark of O&M Halyard or its affiliates.
©2022 O&M Halyard, Inc. All Rights Reserved.